---
The first trimester – Relax and embrace what will come your way
The pregnancy test was positive! Now you can begin to look forward to the fact that in the foreseeable future you will be able to hold your baby in your arms. There are things that you can do for yourself and to have a relaxed pregnancy:
---
Proper nutrition
During the first trimester your baby will develop completely, from head to toe. That is why at this stage it is important to pay attention to your diet. Unfortunately, in our fast-paced world, we have forgotten how to listen to our bodies and what they need in the form of specific foods and nutrients. Therefore, during pregnancy you should consciously try to trust your body and give in to the eating needs you already have, along with new cravings… even if they may seem odd to outsiders.
---
Take breaks
Even though not much is visible from the outside, your body is already working at full speed. Therefore, take some rest and start to slow down. Be attentive and learn to listen to your body and its signals. For example, take a break and reduce the pace when certain situations begin to feel draining and tiring. Allow yourself to be immersed in your own rhythm, because during pregnancy some things simply do not move at the same pace as usual.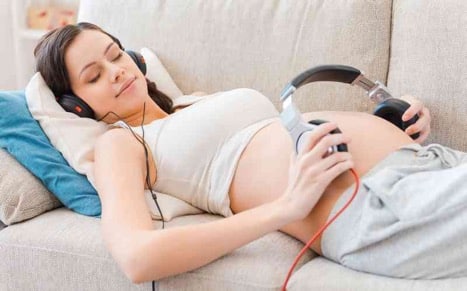 Listening to relaxing music together with your baby. Source: gstockstudio/123rf.com
---
Find a good companion
Take the time to look for a midwife who suits you. The search for "the one" is worthwhile. The time during and after the pregnancy can become very emotional and it is good to have someone familiar and trusted by one's side; somebody you are on the same wavelength with.
---
The second trimester – Straight into round two
Your baby is fully developed and now only needs to grow. Your body has adjusted to the pregnancy. If you have suffered from morning sickness, it usually goes away at this time. This phase can also be experienced wonderfully in "slow mode":
---
Prioritize yourself
As soon as you have officially announced that you are pregnant, everyone will want to share their pregnancy and birth stories with you, both the ones you asked to hear and the unsolicited ones. As long as you're okay with this, everything is fine. However, when you realize all these stories and information is starting to burden- or even confuse you, be mindful of yourself and avoid conversations of this kind.
---
Do fun things
Pregnancy hormones can be lousy traitors and throw you into a feeling of emotional chaos. Distract yourself and do the very things that will do you and your soul good. Buy a nice book. Watch the newest season of your favorite show while relaxing on the sofa. Go shopping and treat yourself to a pretty piece of clothing for pregnant moms.
---
Exercise does you good
In which way you exercise is up to you. Trust in your body and listen to yourself. If you liked to swim before pregnancy, you will likely enjoy it now even more – being free in the water and feeling weightless. Yoga is especially beneficial during pregnancy. Be sure to tell your yoga teacher from the beginning that you are pregnant, since you want to avoid any exercises that may not be good for you. Alternatively, you can also start directly with pregnancy yoga! Whether in a class or perhaps with the Keleya app, always do what makes you feel good in the moment. Trust in yourself and leave out the exercises that do not feel right, because when you're doing fine and are content you will release happiness hormones, and that's good for the baby as well.
---
The third trimester – The final stretch
Two thirds of the pregnancy already lie behind you. Your body has changed a lot in the recent months, and perhaps your thoughts and worldview changed along with it. The following tips can help you through the final weeks:
---
Sleep, sleep, sleep
Your body needs as much energy as possible for the restless nights after birth. However, as the ever-growing baby belly already makes your nights more restless, get yourself a nursing pillow. Put it in a side position between your legs or put your upper leg on it comfortably to relieve your back and sleep better again.
Getting a good night's sleep during pregnancy? It's possible with a few tricks. Source: HONGQI ZHANG/123rf.com
---
Slow down
Accept help when it is offered to you. Us women can tend to desperately wanting to show the world that we can do things alone. Pregnancy is a time where you are definitely allowed to take it down a notch and allow yourself to be spoiled by others.
---
Preparing for stress prevention
Bureaucratic issues are probably the last thing you want to deal with in this phase. In any case, it is worthwhile to get these things over and done with now. By getting the paperwork out of the way, the start into life as a mom will be all the more relaxed. Time to take a deep breath and submit those documents.
---
Live in the moment
Enjoy the little moments in which you can be close to the little being in you. For example when your baby kicks for the first time, or when you imagine for the thousandth time what it will look like when it is finally born.
---
What next?
Actually things should pretty much run the same way as before, because the basis for a "Slow Living Mode" has been laid. Keep this attitude towards life. During the first 8 weeks after delivery it is just as important to pay attention to yourself as to the newborn. The following tips can help:
---
Offline mode: Phones and doorbells off duty
The birth of a baby is a highlight. Relatives, friends and everyone else wants to know how mom and child are doing. At the same time, the first weeks together are very special and intense, because you first have to get to know each other. This process takes time and rest. Therefore, allow your mobile phone and landline to stay off duty for a while, along with your doorbell. Ask for understanding and communicate that you will get in touch as soon as the time is right.
---
Your baby's asleep. Why not just nap along?
Self-care should be written in all caps during the postpartum period. Don't use your baby's bedtime to do anything urgent, but take it easy instead. Lie down in bed or on the couch and treat yourself to the peace your body needs. Especially after the first pregnancy, you should take advantage of this opportunity, because if a larger sibling is present there is no room for such timeouts anyway.
Going to sleep with the baby and catching up a bit on your own Z's. Source: Анна Романова/123rf.com
---
Goodbye to perfectionism
A spotless apartment, a 3-course dinner in the evening or a perfectly styled outfit. All this is not needed in the first weeks after birth. Instead, you should take it easy and focus on decelerating. A pizza from the delivery service can also be delicious. And if you feel like running around comfortably in sweatpants until lunchtime – go for it!
---
Go with the flow
Allow your gut feeling to lead you and trust in yourself and the fact that you will intuitively know what is best for you and your baby in any situation. This is an experience that can have a positive impact on – and guide you – through your entire future family life.