---
Do I need to decide immediately?
Warning: minefield ahead! When visiting some online baby forums and maternity cafes, you should probably bring a helmet to protect yourself from conversion-mad moms. This issue is often called the marsupial mom versus stroller mom debate – mammals such as koalas and kangaroos are called marsupials, and carry their babies around in pouches. Every now and then you get the impression that you can only opt for one or the other solution. However, we are in favor of a very relaxed approach. In the Middle Ages, for example, people were very practice-oriented – the children were transported by whatever means were available. At times this transport included wicker baskets, sometimes bags used to transport wood, or even small wheelbarrows.
Today, most parents look at what best matches their daily lives and habits, and as the demands of everyday baby life can change over and over again, it's not uncommon to see the baby carrier down in the net of the stroller, waiting for its next use. Despite all the flexibility you should know that carrying also has very positive effects for children.
---
Pros of carrying
Babies as "carry-on"
Evolutionary behavioral research claims that human children are used to being carried. A baby that was held by its mother and kept close to her had a better chance of survival. If you pick up a baby today, it still intuitively angles its legs into a squat – the perfect position for latching on to the mother's hip when she carries it.
---
Marsupial babies are happier
Some children enjoy the tightness of the wrap or baby carrier very much. Infants being carried seem to feel content and secure: in one experiment, it was found that the children who were carried cried less than those who weren't. Wearing a wrap, also called a baby sling, or baby carrier can be a great way to give a screaming baby a sense of security and soothe it.
---
Carrying includes a high cuddle-factor
Apart from all theory, carrying means one thing above all: a lot of closeness! It feels very intimate being so close to your child, to smell its scent and to rejoice in how he or she trustingly rests their head upon your chest. It feels a bit like carrying your baby under your heart.
Stay close to your baby by carrying. ©Michael Simons/123rf.com
---
Nursing is possible while carrying
It can be very convenient to nurse your child in a wrap or baby carrier, as it allows you to create a distraction-free nursing environment for your child while protecting your privacy. If you have other children to look after at the same time, you can read a book to them for example.
---
Marsupial moms have their hands free
In addition to the prospect of a happy, well-balanced baby, carrying it has even more advantages: when you carry your baby, you have both hands free! Two free hands allow you to make a sandwich, clear out the dishwasher or – if you are self-employed and need to get work done – to write a few emails on your laptop.
---
Obstacle course? No problem!
You will sometimes have to lift a stroller over obstacles and may need help with this. However, with your baby in front of your chest, stairs, curbs and other obstacles can be easily overcome.
---
Your baby shares your warmth
Especially in the winter season it helps to keep your baby warm in front of your chest (just be mindful of their feet so these don't get too cold). However, due to the same warmth reasoning, there may be one or two sweaty T-shirts in your future during the summer. However, most parents choose to accept a little parent-baby-perspiration.
---
How do I carry my baby? Wrap or baby carrier?
Nowadays you can wear your baby in a baby carrier or in a classic wrap made of cloth. There are patterns, colors and fabrics for every taste, from the more muted tones to the more fashion-forward. Both carrying variants have their advantages.
Wraps are easily stored and save space but usually require some practice in order to be able to tie them correctly even in uncomfortable places. Carrying aids like a baby carrier take up more space, but thanks to their padded straps they are easier to put on – ideal for the less experienced. This ease and simplicity can increase the level of comfort for the wearer.
---
How do I put on these carrying helpers?
How to properly put on your wrap or baby carrier is something you will learn either from trained support consultants or through video tutorials. Basically, it is most important that the child can take on the squat-spreading position while wearing it and that the legs do not simply dangle down in a limp and parallel manner. Every now and then you should check if your baby is getting proper air supply or if it is "crushing" its nose. In Europe, the young ones are at first generally turned face-to-chest of their parents so that they are somewhat shielded from the external environment.
---
Whom does carrying suit?
If you're a very active person who likes to move around the city quickly and easily, without needing the help of others, carrying your baby may be the perfect solution for you. If you like to be outside in nature, without a lot of luggage, or maybe already have a bigger child, carrying is an uncomplicated transport option. If you are reluctant to go long distances with added weight, a stroller may help you.
---
Whom does a stroller suit?
If you have to track along many routes that involve forest and meadow, a stroller with the classic tires may seem bulky and unwieldy at first. However, if you are often on the move with lots of accessories (for example to meet all bottle needs, etc.) or are often traveling for several hours, then the stroller may become an indispensable companion for you. In it, you can accommodate your own food, the child's food and various other useful utensils.
©bowie15/123rf.com
---
Pros of a stroller
The stroller is a cuddly place
The stroller can shield your baby from the outside world just as well as a baby carrier or a wrap would. Strollers have a hood that also protects your baby from the sun, rain and prying eyes. Some kids love the space and freedom of movement they have in the stroller and loathe the tightness of the baby wrap or baby carrier.
---
The cobblestone lullabye
Curious children want to stay awake longer, not missing any of the excitement going on in this new world. A stroll in the fresh air in which you push your stroller over some uneven terrain such as cobblestone streets has managed to rock even the most curious babies to sleep.
---
A stroller is the perfect shopping aid
Proper carrying of your baby strengthens your back muscles, but the trip home with the baby, bulky shopping bags and perhaps a slippery plastic package of toilet paper is not a comfortable one. Here a stroller is a real relief- in it you can stow everything that restricts movement.
---
A stroller as an emergency changing station
There is not always a hygienic changing station available when you are out and about. If necessary, the stroller will serve you well: with a little practice you can also change your baby in its stroller. You usually have the needed accessories quickly at hand, and can stow them away just as easily.
---
A suitable solution for every obstacle course
Depending on which lifestyle you lead – there is always a suitable stroller model. For nature lovers there are practical "off-road vehicles", for the sporty there are jogger models and for the cozy chic types there are retro strollers. If you know that you will be moving through narrow supermarkets and drugstores it's best to opt for a compact and manoeuvrable stroller.
There is a suitable stroller type for every type of person. ©rasstock/123rf.com
---
Emphasize your personal style
Is there a fashionista in you? Then you may be one of the expectant moms who spends weeks studying reviews and catalogs so as not to miss the newest models. Thankfully there are strollers in so many different designs and variations, and they can also be ordered in your favorite colors! Some models even achieve real cult status – such as one model through its seven-second presence in "Sex and the City". If splurging on a fancy ride isn't really your thing and you're more into the idea of a second-hand stroller you'll find a lot of like-minded people in thrift stores and apps.
---
Verdict: Take it easy on yourself!
To carry or to push? You do not have to decide for or against either one of them. As with many other things having to do with parenthood, this topic is about finding an individual path that will do the right thing for you and your child. You will likely come to your own conclusion at the latest when the baby signals distress with its means of transport at the check-out counter. Try to see the advantages of both options and combine them to get the best of both worlds as needed. After all, it is perfectly legitimate to make life with baby a little bit more comfortable. Why not roll on a stroll and dare to wear?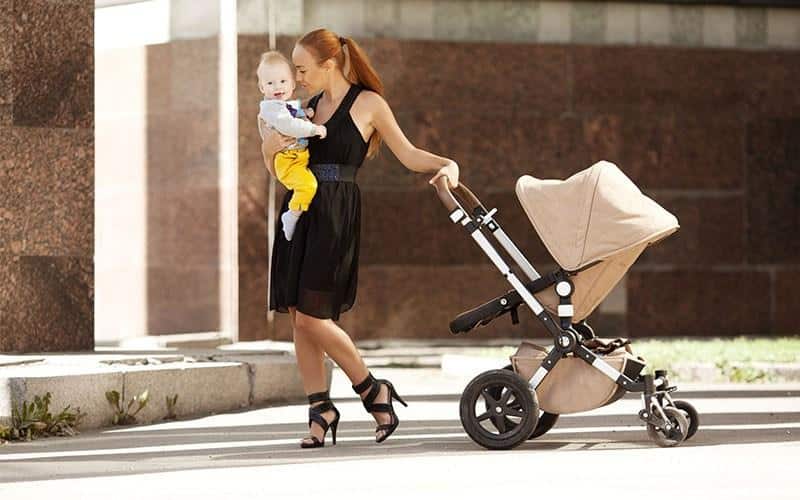 Source: miramiska/123rf.com